When an invisible personal brand can change history
If it wasn't for someone daring to break the rules, now we wouldn't be where we are.
It's always hard to talk about personal brand and famous. Bias is great, because people who change the world are confused with others who, Just, they're different. I usually say that the difference, without relevance, it's just pose, lacks value proposition.
That's why I cheered up a few weeks ago with a little experiment: publish micro-stories about "unknown heroes" on a social network not intended for something like this: Linkedin. The surprise is that the scope of the publications was greater than I could have expected, And not just that, also the interaction generated (engagement).
Maybe it's a hasty conclusion., But the stories, the little stories, we like them. And it doesn't matter where we find them, especially if they are accompanied by images that speak alone.
Here we have gorgeous photographs with their little mini-retatos of people who do not appear in the history books but without them many things would not have happened or would have occurred years later. The invisible personal brand may not leave its full mark, but it does influence.
Tenzing Norgay
The Nepalese Sherpa Tenzing Norgay was one of the first people to reach the top of Everest the 29 May 1953 with Sir Edmund Hillary. Hillary himself and John Hunt, head of the British expedition, were appointed "Sir" by the gestation.

Norgay received a simple honorary medal.

Fame, power and glory are less important than we think. Maybe Don Quixote would have been nobody without Sancho Panza.
Ruby Bridges
In 1960 Ruby Bridges enters a white school in New Orleans for the first time, starting integration. Were 6 the admitted children but only little Ruby with the support of her mother had the courage to cross the threshold of that door under the hostile gaze of the white children's parents who left school… Teachers also refused to teach, all but one, Barbara Henry.
A Brazilian general
Why would a police chief and the protesters be sharing cake between them? This Brazilian general begged protesters not to use violence on his birthday, so they went to buy him a cake instead.

Elena Maseras
Elena Maseras, Vila-Seca, was the first Spaniard to enroll in the University in 1872, specifically at the Faculty of Medicine of the University of Barcelona. Although there was no express ban preventing women from doing higher education, was considered an extravagance, so his presence in the classroom drew up numerous criticism, which resulted in the consequent administrative hurdles.
Bayard Rustin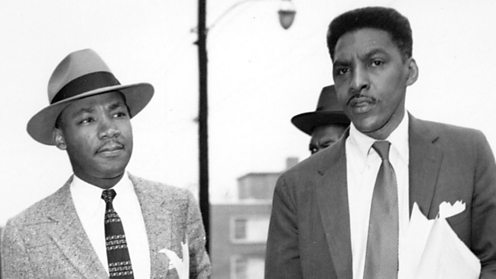 Although everyone knows Martin Luther King, few know it was Bayard Rustin who convinced him about the use of non-violence to defend civil rights. In fact, Rustin was the top organizer of the March on Washington in August 1963.
Wang Weilin
dubbed "the man in the tank", this anonymous hero could be Wang Weilin, of the 19 Years, son of workers from the Beijing factory. The 5 June, June, 1989 faced several tanks that wanted to quell the Tiananmen Square revolt.

We don't know the echo this scenario had. In fact, all the images from that day are banned in China. We also don't know if Wang was persecuted. We do know that China, over the years, has passed small reforms.

Claudette Colvin
Before the famous Rosa Parks, this girl from 15 years of name Claudette Colvin, refused to give up his seat to a white person on a bus in Montgomery (Alabama) In 1955. Of course, she was arrested.

A year later the judges determined that state and local laws requiring bus segregation in Alabama were unconstitutional.

Tess Asplund
In 2016, the Nordic Resistance Movement, a Swedish organization known for its violence and opposition to non-white immigration, was organizing a weekend rally in Borlange to commemorate International Workers' Day.

Tess Asplund, Swedish anti-racist activist, stood in the way of the neo-Nazi march of 300 people and raised a defiant fist before the police evacuated her.
Lauren Hill
On the day of his 18th birthday, Lauren Hill began to feel bad while playing in a game with his teammates. Inoperable terminal brain cancer. Two-year life expectancy. But I had a dream.: jumping back onto a basketball court, And he did it. A few months later he died..


Ieshia Evans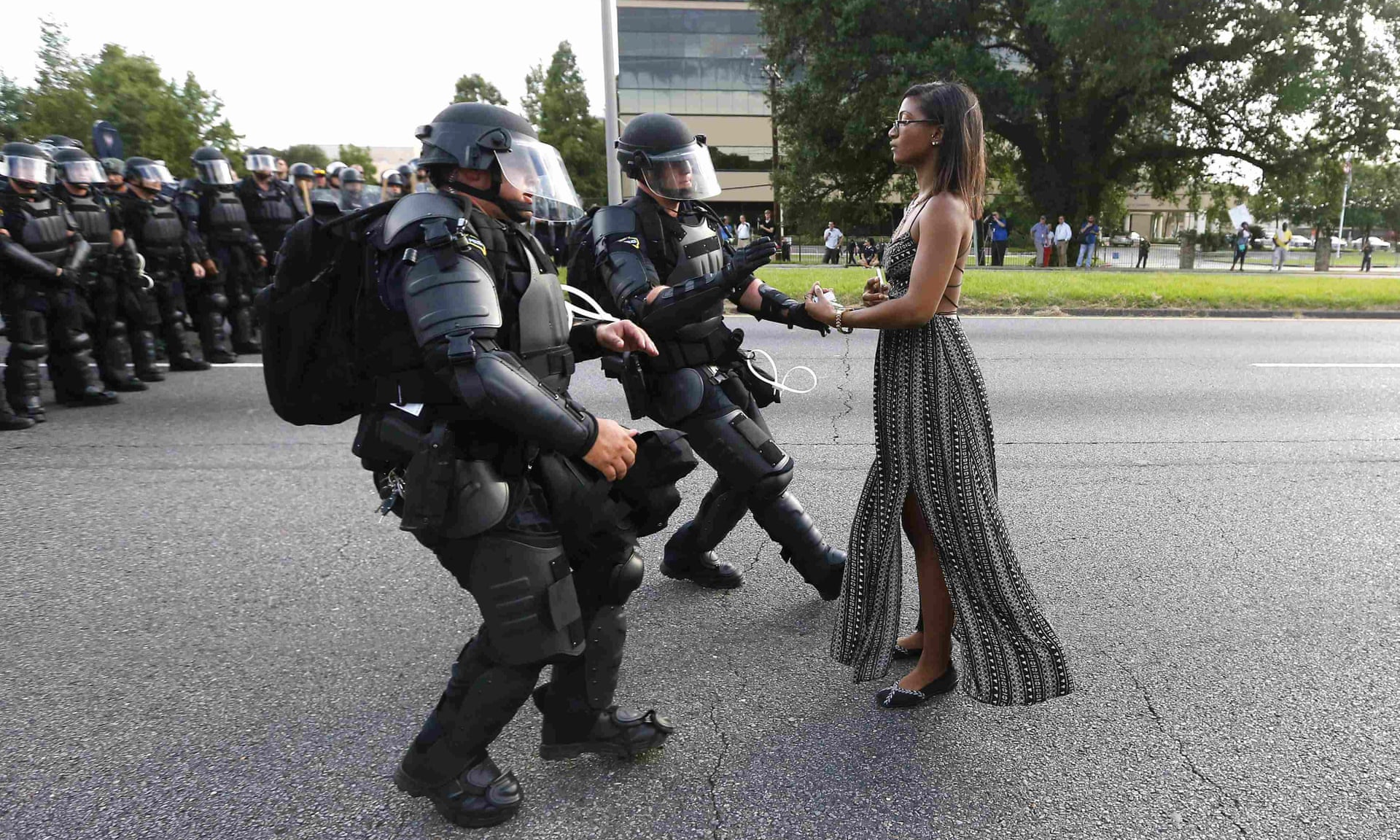 The activist Ieshia Evans stands firm as she offers her hands to be arrested while being charged by riot police during a protest against police brutality in front of the Baton Rouge Police Department in Louisiana, United States, The 9 July 2016. Photo by Jonathan Bachman / Reuters.


Lindsay Hilton
Canada's Lindsay Hilton can lift 45 Kg. He was born without arms or legs. He also has a passion for swimming, football, hockey and especially rugby. When asked what motivates you and whether or not you feel satisfied, Lindsay responds: "I don't want to be good for someone without arms and legs, I just want to be good".
Award-winning photo at the World Press Photo 2017 of the Darren Calabrese.
Paul Cowan
In 1990, Paul Cowan, a young executive of Saatchi & Saatchi, decided that his new agency should be the first to advertise over the Berlin Wall. This decision triggered the beginning of the immortality of one of the world's largest advertising agencies.

The Wright brothers
The brothers Wilbur and Orville Wright got the first manned flight in history a 17 December 1903, in Kitty Hawk. And the best, they did it with fewer resources than others who tried at the same time.

Kathrine Switzer
1967, Kathrine Switzer became the first woman to run a marathon. It was in Boston.. Pictured, one of the commissioners tries to stop her.


The Dicho. If it wasn't for someone, an invisible personal brand, dared to break the rules, now we wouldn't be where we are.
Pd: If you have a chance, don't miss the movie Hidden figures (Hidden figures) directed by Theodore Melfi In 2016 and who grazed several Oscars. It tells the never-told story of three brilliant African-American women scientists who worked at NASA in the early 1960s (in the middle of the space race, and also in the middle of the fight for the civil rights of black Americans) in the ambitious project to put astronaut John Glenn into orbit.
Convinced that everything leaves a mark, I help companies better connect with their stakeholders through personal branding programs (personal brand management) and employee advocacy (programs of branded internal ambassadors).
Socio of Soymimarca's Integra Personal Branding, Brand Directory of Omnia Branding, I also collaborate with Ponte en Valor, Brandergizers, MoreThanLaw, Noema Consulting and Quifer Consultores.
I participate in various programs at IESE, ISDI and EAE, among others. Collegiate advertising, Master in Marketing. Humanities Degree Student.
My advertising DNA comes from 20 years in agencies: Time/BBDO, J.W.T., Bassat Ogilvy, Saatchi & Saatchi, Altraforma and TVLowCost among others.