Technology. This is the fifth of the trends I targeted a few days ago in the post Trends 2020 in Personal Branding.
If you're short on time, I invite you to watch this video-summary:
What if human-machine struggle becomes alliance?
In trends 2020 there was no lack of Technology. If you know me, you know I'm a great advocate for the "Human Branding" philosophy., to take advantage of human traits such as empathy, creativity, imperfection, improvisation, intuition... It's an innate thing in human nature.
Is it possible for us to move from enemies to allies in the human-machine binomial?
We look at technology as a threat, And that's a partial look
When I teach in personal branding, many of the attendees you see the technology within the "A" of DAFO; I mean, as a threat. Especially when it comes to automating processes and jobs.
Let me give you an example of threat turned into opportunity:
The real estate agent case
A real estate agent is someone who rents, buy or sell properties for customers. Also to carry out tasks such as studying property listings, interview potential customers, accompany customers to the property site, discuss the terms of sale and draft real estate contracts.
Well, according to a Oxford University study on the future of work (2013), the percentage of robotization expected in 2024 for that position it's from the 58% (readers of www.willrobotstakemyjob.com, based on that same study, put it in a 86%).
It is very likely that this profession, as defined, Be replaced by robots/AI in a few decades. My question N1 is what is the part of the work of a real estate agent that can be automated? And question N2 is Why couldn't the real estate agent take the initiative to automate that part and focus on what really has value, for sale?
The sale, if it's not from a product commodity, requires empathy, Intuition, Advance, Creativity, Respect, flexibility... aren't they traits 100% Human?
Technology makes us better
I think technology, well applied, makes us better, faster, Accurate. In the case of technology applied to digital communication, helps us eliminate the idea of time (on the Internet our brand is awake 24h a day) and space (our online messages go from the local realm).
We must act as digital humanists, taking advantage of the best of the human condition and the best of technology.
Boost your brand so robots don't dominate you
This was the title of the round table in which I had the honor of intervening alongside Joan Clotet, Eva Collado, Elena Arnaiz And Colia Hil over the past Personal Branding Lab Day. The focus was on the world of work, and we all agreed with Joan: If you work like a robot, you'll be replaced by a robot.
The way around it is to, Precisely, value our human traits: Improvise, Guess, change plans, Empathize, critical thinking, Unlearn, Learn, and also make a mistake.
Here's the round table, lasting almost 30 Minutes.
Make robots work for you
Alexa, Siri, Romba. Virtual assistants, presence sensors, vision systems, connected appliances, smart vehicles… Today we have technology that makes our lives easier. That's true, but let's remember to read the instruction manuals, Latinos are unsused to do so.
My friend and colleague Arancha Ruiz has included a chatbot on her website to better target her potential clients. Her name is Maria José, and the important thing is not whether it exists or not. The important thing is if it solves our problem. Technology at the service of the person, and not the other way around.
Multiple applications, but one stands out #lifelonglearning
If I had to highlight a field where technology is put at our service to make us better, is the one applied to learning.
Today there are few excuses not to thoroughly learn a competition: MOOCS (free online courses from universities), virtual academies, online courses, cool initiatives like Linkedin Learning, As Infojobs Academy. What until recently was reserved for a few, now has universal reach.
And it's not just about reach, but diversity. There are courses for everything, 100% Online, Asynchronous (we can connect as we do well), Universal, in any language and all the subjects of knowledge.
The Dicho: don't let technology step on you, use it on your behalf. By the way, Merry Christmas!
Stock Photos from VectorMine / Shutterstock
Save the date: TEDxEixample 2020
We already have a date for the 2nd edition of the TEDxEixample: The 22 May 2020 of the 15:30 22h at the Damm Factory Antiga in Barcelona.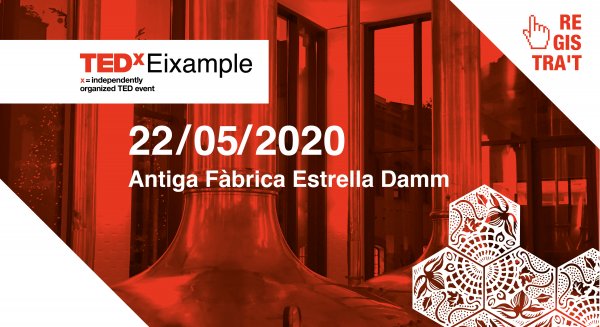 "Shape Your World" will be the common thread of 2020. And for now, we already have some speakers Confirmed. At the moment we unveil three speakers:
Alex Lopez: Top 10 World Influencers Social Selling and Spanish-speaking First. One of the largest and most reputable experts in professional networks such as LinkedIn. Author of the Book "Digital Digital Seller Customer". Social Media Trainer at Universities and Business Schools like IESE, Esade, Ie, Isdi , University of A Coruña and University of Deusto.
Joan Clotet: Digital Humanist. Committed to people to help them get to know each other better and grow individually and collectively in this age #digital. Talent Innovation Manager at Ferrovial. Explorer and discloser. Executive coach (Icf) and mentor. Consultant/speaker/facilitator at Univ. Ferrovial, Join, Eada, Esade, Upc, Icemd, Uoc
Javier Peña: Director General and Scientist of Elisava is a dreamer passionate about the world of materials and matter. She studied chemical sciences in Barcelona and received her doctorate working with smart materials. He teaches materials in Elisava under the umbrella of Design and Engineering and integrates the language of matter at the same level as that of numbers, lyrics and musical notes.
If you don't want to run out of tickets, I wouldn't expect much. Here's the link Enterticket TEDxEixample 2020.
"9: Let your talent flow", Soymimarca's new ebook
For the ninth year in a row, Soymimarca will give us a gift from his website on Christmas Day, The 25 December. It is a compilation of the best articles published on the blog, prologated by Elena Arnaiz.
With articles from Fran Segarra, Vladimir Estrada, Nancy Vazquez, Paul Adam, Paula Fernández-Ochoa, Eva Collado Durán, Maria Sanchez and who writes.
Don't miss it, it's free. Connect the 25 December with www.soymimarca.com.
The best of 2019 in Personal Branding
Next Saturday 28 December, last post of the year on this blog, brings the best of the year. As is customary, I will present a selection of the best articles on personal branding from all the authors.
Also the best books, and the best events.
Convinced that everything leaves a mark, I help companies better connect with their stakeholders through personal branding programs (personal brand management) and employee advocacy (programs of branded internal ambassadors).
Socio of Soymimarca's Integra Personal Branding, Brand Directory of Omnia Branding, I also collaborate with Ponte en Valor, Brandergizers, MoreThanLaw, Noema Consulting and Quifer Consultores.
I participate in various programs at IESE, ISDI and EAE, among others. Collegiate advertising, Master in Marketing. Humanities Degree Student.
My advertising DNA comes from 20 years in agencies: Time/BBDO, J.W.T., Bassat Ogilvy, Saatchi & Saatchi, Altraforma and TVLowCost among others.